VIOS series
A wide line-up to meet a variety of preferences and needs
Our VIOS line-up includes a total of 5 seats: VIOS III standard model. the premium "Japan" model which uses high-class faux suede for its surface material. the basic SPORT-C model. the REIMS model featuring a full cover extending to the back surface and a one-point accent color. and TYPE-R with a high holdability in its thigh section. It is an active fixed bucket seat which can meet a variety of customers' needs from sports-oriented to luxury-oriented and fashion-oriented
Utilizing the LOWMAX System which enables the maximum low driving position
Because VIOS utilizes BRIDE's patented Lomax System technology, it enables a low position even in a tight seat space. Even if offsets between the steering and seat centers occur, with the Lomax System it is possible to set the offset to zero*. (In some cases certain models may not reach zero)
Abundant color variation with 10 colors
The entire VIOS line-up features abundant color variation. The standard model is expanded to 5 colors. REIMS 3 colors. "Japan" to high-class faux suede black. and SPORT-C to limited black. The REIMS features a refined coloring with different coloring used on the shoulder section, seat back accent line and logo.
Equipped with a two-piece type thigh polyurethane which distributes the body pressure of both legs and enables high pedal operability
We have enabled high pedal operability using the two-piece type polyurethane of the thigh part (excluding SPORT-C). Also, by increasing the height of the knee support part, we have also drastically increased the pedal operability in lateral G during high-speed cornering
Back rest polyurethane which realizes high holdability
From the experience of BRIDE, which has produced many full bucket seats so far, the backrest urethane construction has chosen the best thickness and hardness of each part. In addition, it is wrapped deeply in combination with a seat surface urethane divided front and back into 2, realizing high holdability.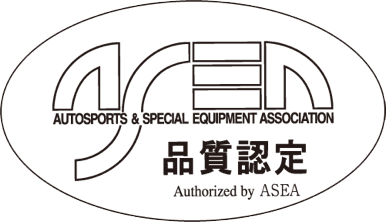 BRIDE produces all its seats and seat rail products, which are closest to the driver and also protect the driver's body in the case of an accident, domestically in Japan. BRIDE's seats are ASEA-approved products which have cleared the standards of ASEA, the industry organization whose members comprise motorsports companies and related tuning parts manufacture and sales companies which represent Japan, and are models which conform to vehicle inspections and have cleared rigorous safety benchmarks. The safety benchmark comprises 6 items--"seat back rear surface crash test", "head restraint forward crash test", "head restraint static test", "seat and seat mounting test", "seat belt mounting test", and "flame resistance test"--in which a great amount of force is applied to the seats assuming an accident to check whether the seats are damaged and whether they can be maintained for the regulated time, and to confirm the safety of the seats.

Also, BRIDE's seats are the first seats produced in Japan to be licensed by FIA, and we provide 9 models which can be used in international races. In order to maintain and improve product quality to pass safety benchmarks and strict FIA strength tests, BRIDE conducts thorough management of its manufacturing process.