GIASII
A reclining sport seat which has both lightness and high holdability as well as abundant color variations
GIAS II is a reclining sport seat which achieves the same rigidity and holdability as a fixed bucket seat for high knee support, and it uses a full monocoque shell structure for its backrest..
Reclining sport seats tend to be heavier, but in the GIAS II model which uses a carbon aramid shell, we have reduced the weight to the 11kg range by making the basic frame and reclining device out of aluminum.
Another feature of GIAS is its abundant color variations, namely gradation logo, black logo, black, red, and blue.
About Bride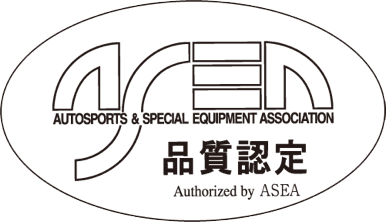 BRIDE produces all its seats and seat rail products, which are closest to the driver and also protect the driver's body in the case of an accident, domestically in Japan. BRIDE's seats are ASEA-approved products which have cleared the standards of ASEA, the industry organization whose members comprise motorsports companies and related tuning parts manufacture and sales companies which represent Japan, and are models which conform to vehicle inspections and have cleared rigorous safety benchmarks. The safety benchmark comprises 6 items--"seat back rear surface crash test", "head restraint forward crash test", "head restraint static test", "seat and seat mounting test", "seat belt mounting test", and "flame resistance test"--in which a great amount of force is applied to the seats assuming an accident to check whether the seats are damaged and whether they can be maintained for the regulated time, and to confirm the safety of the seats.

Also, BRIDE's seats are the first seats produced in Japan to be licensed by FIA, and we provide 9 models which can be used in international races. In order to maintain and improve product quality to pass safety benchmarks and strict FIA strength tests, BRIDE conducts thorough management of its manufacturing process.